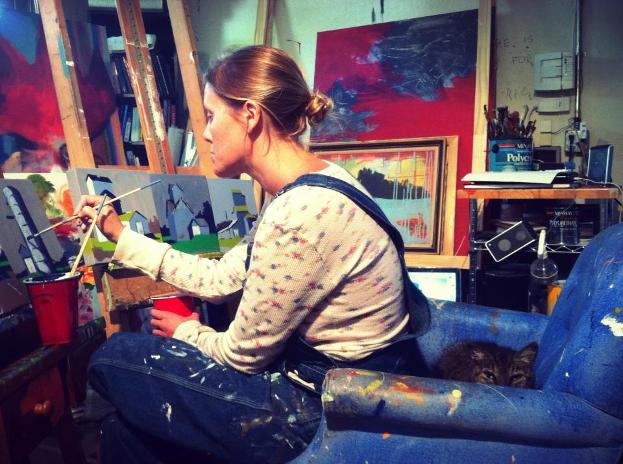 BIOGRAPHY: CASSIA KITE, AMERICAN B.1979
Kite was born and raised in Auburn, Nebraska. She earned a B.F.A in painting and sculpture, along with a B.S in Art Education from Northwest Missouri State University in 2003. In the summer of 2006, Kite moved to St. Petersburg, FL from Atlanta, GA to work with both the Museum of Fine Arts and Salvador Dali Museum's educational departments. Kite completed her Masters in Education, Curriculum and Instruction, with an emphasis in School Improvement, Teacher Leadership and Technology at the University of Florida in December 2010.
Currently, Kite is a Studio Art Instructor in the fine art program at IMG Academy in Bradenton, FL and is a member of SARTQ, a Sarasota Contemporary Artist Collective. Kite resides in Sarasota, Florida during the instructional year, where she works in her home studio. She visits Auburn, Nebraska during the summer months, where she works on her family farm.
Kite is represented by Anderson O'Brien Fine Art in Omaha, Nebraska and State of the Arts Gallery in Sarasota, FL.
Artist Statement
I was born and raised as a Midwest farm girl, daughter to a Nebraska farmer and an elementary school teacher. My childhood experiences of living on the farm and being raised in a farming community still influence and inform the work I am creating today . I communicate the nostalgia, appreciation, love and admiration that I have for my farm life upbringing through my work, whether it be imagery of farmscapes, portraits of family members, abstract constructions of memories involving symbolism or music compositions derived from my hand stitches. Everything I create has historical significance to my personal narrative.
-CASSIA KITE