In this exhibition, artist Cassia Kite's distinctive Soundstitching process allows visitors to experience Willa Cather's world in a whole new way. Soundstitching: Sites and Sounds of Willa Cather's World transforms the colors from hand-stitched images of locations from Cather's life into playable musical compositions, creating a multidisciplinary and multisensory experience.
The Soundstitching process starts with a hand-stitched image, which Kite converts to a "color map," which is then translated into a color scale on the piano, assigning each color to a key. Following the order of the color maps, Kite then uses the piano color scale to assign musical notes and create a musical composition. Kite's musical collaborators are then able to arrange the notes into a composition.
On view from May 3 to June 11, the exhibition is free and open to the public. Click here to view the digital gallery!
A special Spring Conference event —an artist talk and a performance of Soundstitching compositions by Dr. Stacey Barelos on Friday, June 3—will be held in the Red Cloud Opera House as part of our 67th annual Willa Cather Spring Conference. Please visit the Spring Conference page for a full schedule.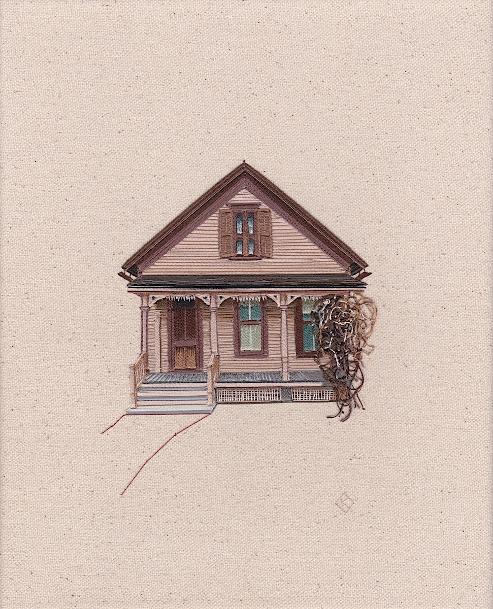 Willa Cather Childhood Home Soundstitching, 2020
The SKYWAY 2020 Exhibition has been rescheduled for Summer 2021!
Kite will be exhibiting and premiering a new work at the Tampa Museum of Art, June 3- October 10! Performance announcements coming soon!
SKYWAY 2020: A Contemporary Collaboration
May 30 – October 11, 2020
The Skyway exhibition, now in its second iteration, is a celebration of artistic practices in the Tampa Bay region, as it is a collaboration between four institutions: the Museum of Fine Arts, St. Petersburg; The John and Mable Ringling Museum of Art, Sarasota; the Tampa Museum of Art; and the University of South Florida Contemporary Art Museum, Tampa. Working together, curators from each institution will offer context for the diversity of art being made in Hillsborough, Manatee, Pasco, Pinellas, and Sarasota counties. Artworks and projects in the exhibition will be selected by museum curators and the guest juror, Claire Tancons, an independent curator and scholar whose practice takes a global focus on the conditions of cultural production. Tancons has curated biennials around the world, including Prospect.1, New Orleans; the 2008 Gwangju Biennial; and the 2019 Sharjah Biennial.
Skyway 2020: A Contemporary Collaboration
May 30 - October 11, 2020
For more information, email skywaytampabay@gmail.com.
Skyway 2020 Exhibition Dates & Participating Artists

Four exhibition receptions, one at each institution, will occur during the summer and fall of 2020.
May 30 – August 16, 2020 at the Museum of Fine Arts, St. Petersburg
Robert Aiosa

Ibrahim Bassmi

Savannah Bonnette

Dolores Coe

Keith Crowley

Becky Flanders

Dakota Gearhart

Morgan Janssen

Ezra Johnson

Karl Kelly

Jon Notwick

Gabriel Ramos

Lynne Railsback

Matthew Wicks

Janelle Young
June 21 – October 4, 2020 at The John and Mable Ringling Museum of Art, Sarasota
Carrie Boucher

Ya La'Ford

Kalup Linzy

Noelle Mason

OK! Transmit

Eric Ondina

Heather Rosenbach

Jake Troyli
June 25 – October 11, 2020 at the Tampa Museum of Art, Tampa
Jaime Alaventhura

Kim Anderson

Wendy Babcox

Janet Folsom

Samson Huang

Jason Lazarus

Kirk Ke Wang

Cassia Kite

Jenn Miller

Sarah O'Donoghue

Herion Park

Anat Pollack

Libbi Ponce

Selina Roman

John Sims

Mike Solomon

Jill Taffett
June 22 – September 5, 2020 at the USF Contemporary Art Museum, Tampa
Rosemarie Chiarlone

Danny Dobrow

Babette Herschberger

Akiko Kotani

Cynthia Mason

Ry McCollough

Casey McDonough

Kodi Thompson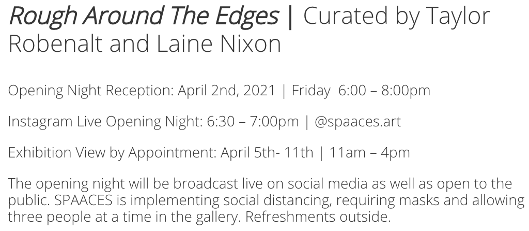 Rough Around the Edges Statement:
"As a creative, it is often hard to explore every possible idea – especially those ideas that are non-commercial or do not easily fit into the standard art institutions. This show was conceived to offer women who are creating in Sarasota a place to investigate untapped concepts. "Rough Around the Edges" was a chance to let down our guard and make that piece that has been sitting in the back of our minds for days, months, or even years. It is an opportunity to let the art be the art, to let the process be the process, to explore the controversial in our work or to find that edge that might have been alluding us."
Artists: Sarita Rene, Kathy Wright, Meg Pierce, Marianne Chapel, Claudia Ryan, Julie Kanapaux, Cassia Kite, Danielle Dygert, Alixandra Martin, Jennifer Jones, Eszter Sziksz, Bianca Sel-Ket, Anita Wexler, Taylor Robenalt and Laine Nixon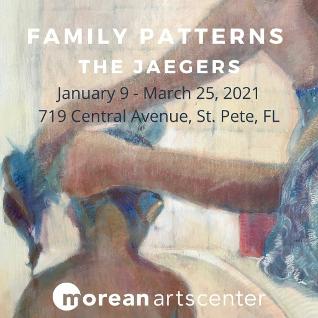 JANUARY 9- MARCH 25 at the Morean Arts Center located at 719 Central Avenue, St. Petersburg, FL 33701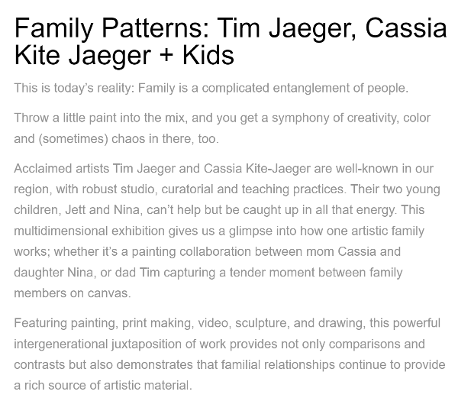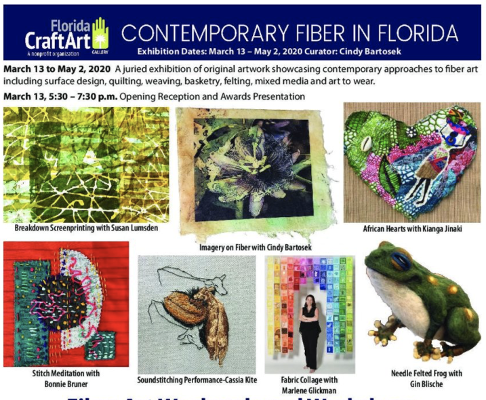 October 17th Opening reception
and artist remarks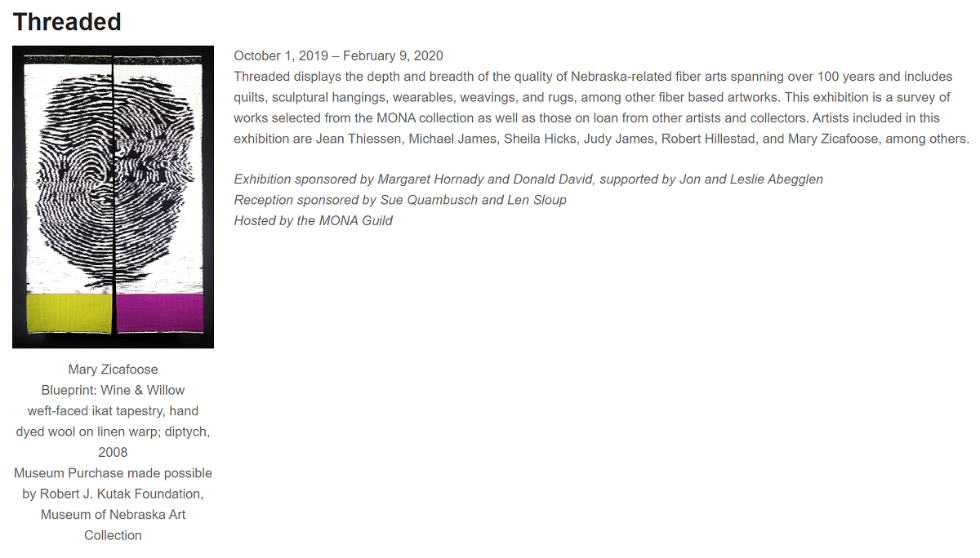 Museum of Nebraska Art, 2401 Central Ave, Kearney, NE 68847, (308) 865-8559 Museum Hours TUE - SAT: 10:00 a.m. - 5:00 p.m. | SUN: noon - 5:00 p.m. | Closed Mondays and major holiday
s

COMMON THREADS on view at the Falls City Library located at:
1400 Stone Street
Falls City, NE 68355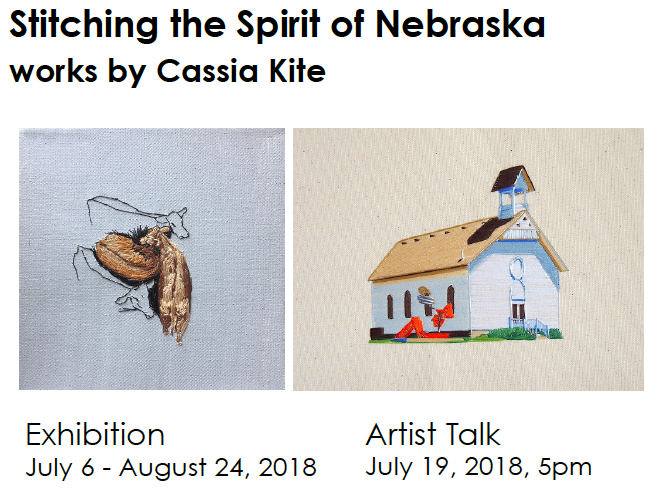 SOLO EXHIBITION: Stitching the Spirit of Nebraska
July 6th - August 24th; Artist talk: July 19th, 5-7PM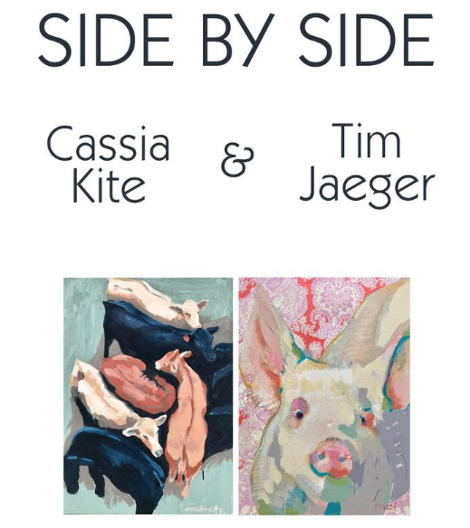 Auburn Nebraska native, Cassia Kite, returns in June with husband and fellow artist, Tim Jaeger, in a month-long exhibition titled Side by Side. This exhibition features paintings and drawings of Kite's family farmland and cattle imagery and Jaeger's colorful expressive portraits of farm animals.
Side by Side will be on view from June 1-30.
Artist Reception:
Friday, June 8th 2018

5:00pm - 8:00pm
Anderson O'Brien Fine Art Old Market | 1108 Jackson Street, Omaha, NE 68102
(p) 402.884.0911 | (f) 402.884.0932
gallery@aobfineart.com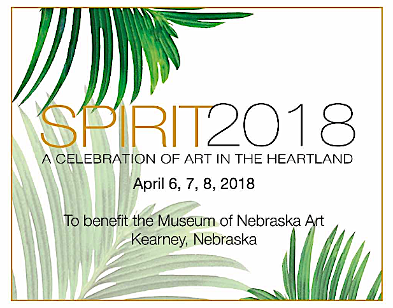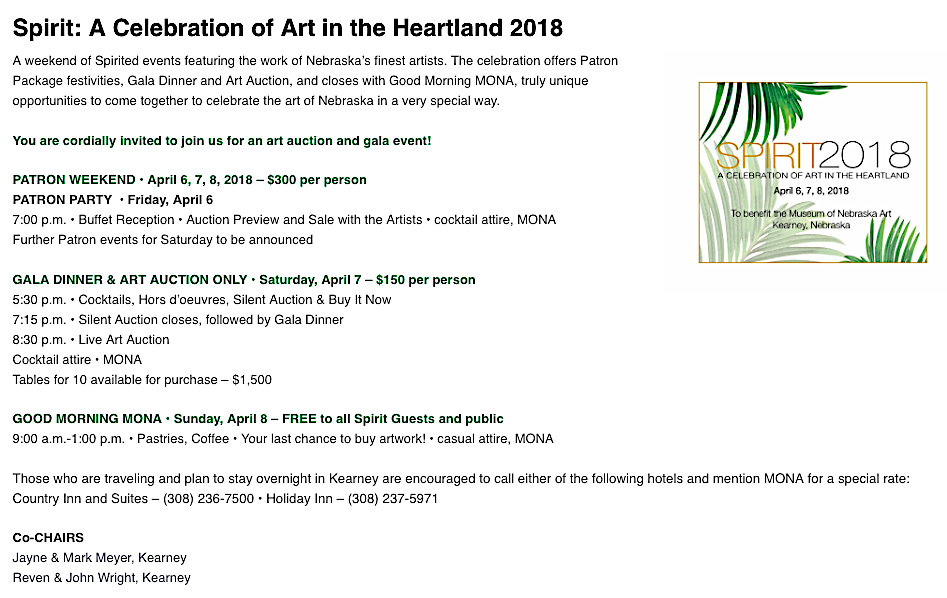 A new collaborative project between the John and Mable Ringling Museum of Art, the Museum of Fine Arts (MFA), St. Petersburg and the Tampa Museum of Art will bridge the selected works of local artists in a joint, simultaneous exhibit called Skyway in June 2017.

An open call to artists is currently underway to artists from Hillsborough, Pinellas, Manatee and Sarasota counties. There is no entry fee for submissions and the online call closes Dec. 15, 2016.
"One of the great powers of art is in bringing people together and stimulating dialogue -- do you like it, do you hate it, what would you have done differently, and so on," says Seth Pevnick, Chief Curator at the Tampa Museum of Art. "Too often with exhibitions, the dialogue can go no further than that. But with this exhibition, many of the artists in our community will have the opportunity to display their art on a bigger stage and join in the conversation in that way."
The exhibit will be juried by six curators, two from each participating museum and a visiting juror. Any original artwork, including paintings, drawings, prints, sculpture, photography, video, performance and site-specific installations completed after January 2016 are eligible for submission.
"Our main goal will be to highlight what we feel is the most important and interesting visual art being created in the region," says Pevnick. "It will be exciting to see how everything balances out in terms of media, themes, approaches and home counties."
"We also aim to provide context for the work of area artists -- our goal is to give a sense of the selected artists' overall oeuvre as opposed to a single perspective through one or two works," notes Katherine Pill, Curator of Contemporary Art at the MFA.
This isn't the first time the Tampa and St. Pete museums have collaborated. The much celebrated My Generation: Young Chinese Artists, the contemporary Chinese art exhibition was co-organized and co-hosted for the first time in the United States simultaneously
at both museums in 2014
. The two museums also hold a shared patron event called Bridging the Bay each fall.
Pevnick says the exhibition builds on this partnership, but that he believes the idea for this show came about at the director level after Michael Tomor took the helm as Executive Director of the Tampa Museum of Art in 2015. He says Tomor had done a similar collaborative exhibition at the El Paso Museum of Art, collaborating with the Museo de Arte de Ciudad Juárez and talked with his colleagues at the MFA and the Ringling shortly after his arrival in Tampa.
"And then he brought the idea to me, suggesting that we do something similar in Tampa," says Pevnick. "Our curatorial colleagues at the MFA and the Ringling were also excited about the idea, and it has been fun to work with them in the planning stages thus far."
Pevnick says they hope they will receive many submissions and that the exhibit "will allow us to get to know many more of the artists in the region, and also to raise the profile of selected artists, both locally and beyond."