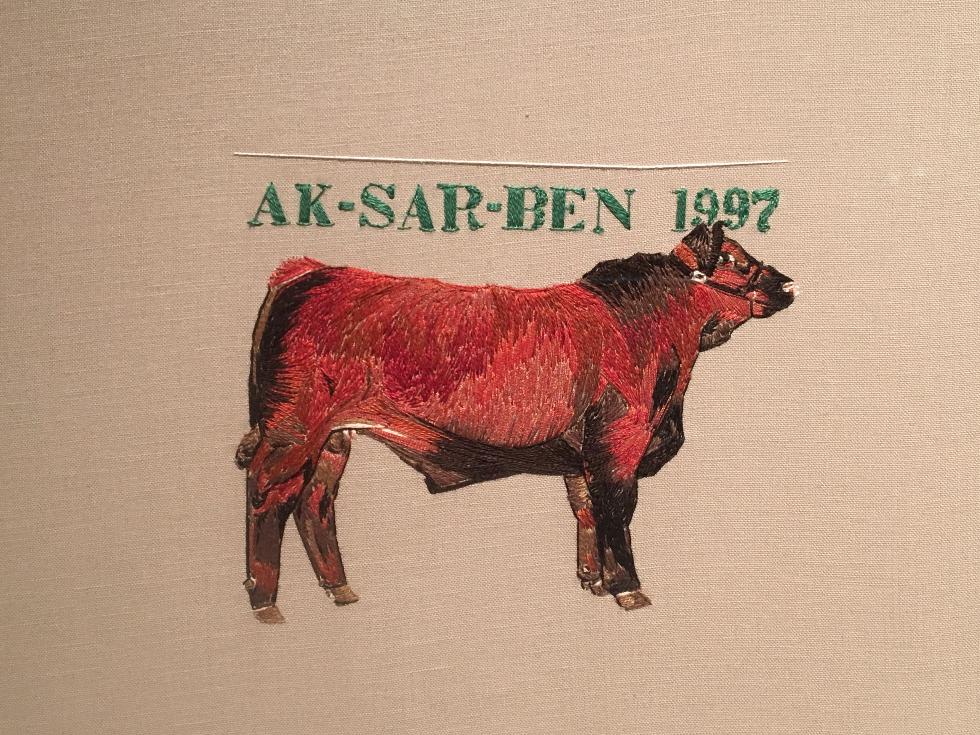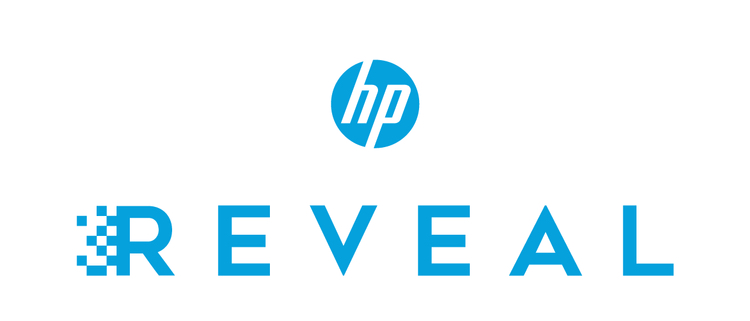 RED Soundstitching, 2017
9" x 12"
Thread on canvas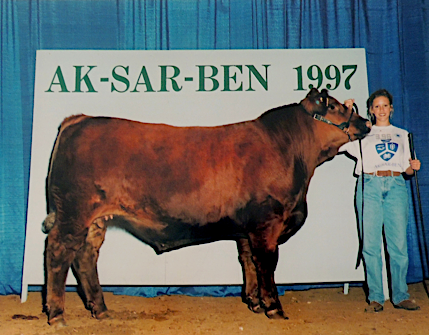 "RED" was a red Angus steer that I raised as a competitor of the "Catch-A-Calf" Program at the AK-SAR-BEN Stock Show in Omaha, Nebraska in 1997. The AK-SAR-BEN "Catch-A-Calf" Program gave opportunities for the youth to compete for the chance to participate in the "Catch-A-Calf" event during the AK-SAR-BEN Stock Show. The competitors were given halters to use to try to catch a young steer. If the participants were able catch a calf during the rodeo event, they won the chance to compete in the "Catch-A-Calf" Stock Show Program that year. There were only eight calves to 15 girls, and I caught one of them!
The winners drew ear tag numbers out of a hat, which would determine the steer you would take home and raise that year (my ear tag number was 28). You were required to exhibit that steer the following summer. The participants were paired up with sponsors from the Omaha community. My sponsor was Ken Stinson, the Chairman and CEO of Peter Kiewit Construction Group (1992-2005). We wrote letters and corresponded for the whole year on the progress of my steer. During the final exhibition, my Red Angus steer, RED weighed
1,535 pounds and won 4th out of 28 competitors.
I loved and cared for all of the animals I raised and exhibited, but RED, also known as Rusty, was the most docile steer I ever had. It was nice to reconnect with that memory for this Soundstitching. I am very fortunate to have had the opportunity participate in the AKSARBEN "Catch-A-Calf" Program and to be supported by the Omaha community.
Copyright © 2022 Cassia Kite, All Rights Reserved.