"She had never known before how much the country meant to her. The chirping of the insects in the long grass had been like the sweetest music. She had felt as if her heart were hiding down there, somewhere, with the quail and the plover and all the little wild things that crooned or buzzed in the sun. Under the long shaggy ridges, she felt the future stirring." – O'Pioneers, by Willa Cather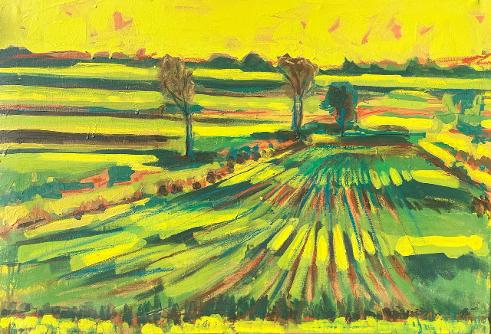 128°E, 40°20'59"N 95°46'36"W, 940 ft Elevation, Auburn NE
24" x 35"
Plein Air acrylic on canvas
These en plein air paintings have been created on or near my family farm located in the Southeast corner of Nebraska. I have been plein air painting since 1998and enjoy the relationship I experience with the Nebraska landscape when painting it. There is nothing like my Nebraska~ CASSIA KITE
Copyright © 2023 Cassia Kite, All Rights Reserved.