"Home"
A piano piece that transforms the primary Soundstitching pitches (G, B, B-flat, A, C) into two basic scales giving the piece a nostalgic feel. The beginning and end add charming pluckings on strings inside the piano. A piece that moves forward but would be playable by intermediate and advanced players!~ Dr. Stacey Barelos
Stacey Barelos is a performer, composer, and educator. As a performer, she specializes in the music of the 20th and 21st centuries, particularly the music of living composers. Regarding her first solo release, The Midwest American Piano Project, the American Record Guide said, "Stacey Barelos . . . plays with authority and poetic nuance, her beautiful tone captured vividly in this warm recording. . ." Barelos has also done extensive research on the piano music of American composer Henry Cowell, much of which can be seen on her website.

As a composer, Barelos's eclectic works have been performed on five continents and can be heard on the Albany and Blue Griffin labels. In 2019, her piece Starfish was featured at toy piano festivals in Como, Italy, and Seoul, South Korea. In 2020, Barelos's work as a composer, performer, and educator was featured on Nebraska Public Media's "What If," a statewide program celebrating innovation and creativity in Nebraska. She received her DMA degree from the University of Wisconsin-Madison. She teaches at the Omaha Conservatory of Music, the University of Nebraska at Omaha, and is the Education Director for the Omaha Under the Radar Festival.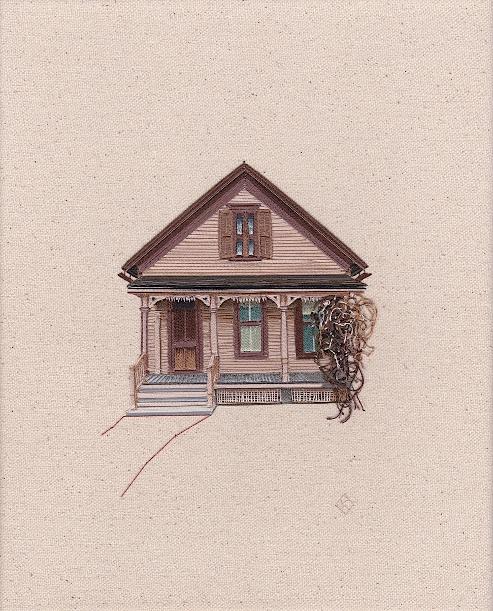 Willa Cather Childhood Home, 2020
9" x 12"
Thread on canvas
The stitching on the right is of Willa Cather's childhood home. The Childhood Home contains many family artifacts including furniture, canned goods, prints and artwork, and family photographs and books. Grandma Boak's room is exactly as described in "Old Mrs. Harris." Upstairs, a "story within itself," is young Willa's (and Thea Kronborg's in The Song of the Lark) small attic bedroom.
The Childhood Home was donated to the Willa Cather Pioneer Memorial and lovingly restored by Dr. Wilbur Bennett and his wife, Mildred Bennett, who founded the WCPM. Later, that organization would become the Willa Cather Foundation we now know. Willa Cather's Childhood Home is located at 245 North Cedar in Red Cloud, NE.
Soundstitching: Sites and Sounds of Willa Cather's World exhibition was on view May 3 through June 11, 2022 in the Red Cloud Opera House Gallery, located at 413 N Webster Street in Red Cloud, Nebraska.
"Burlington Depot"
A work of fixed media inspired by sounds outside the composer's music window. Unlike "Home" this piece is a more direct rendition of the original Soundstitching map but uses the timbres of trains and various percussive keyboards to create a more dream-like state.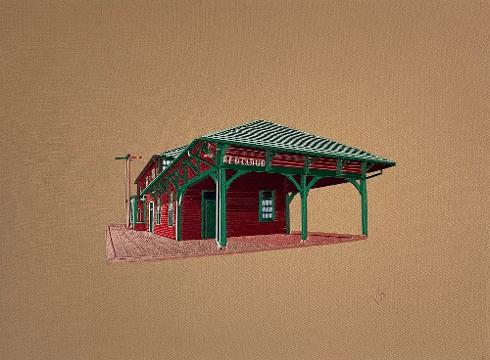 The Burlington Depot, 2021
9" x 12"
Thread and fabric on canvas
Cather uses the depot in many of her works, such as in an early scene in My Ántonia. The Depot also figures prominently in "The Sculptor's Funeral." This is Red Cloud's third depot, built in 1897. Willa Cather would have used it when traveling to and from her hometown. The Burlington Depot is located at 437 W. Welsch Street Red Cloud, NE.


Copyright © 2022 Cassia Kite, All Rights Reserved.