As a creator, I spent years developing a form of art that is performative, participatory and collaborative in nature. Being forced to take a "time out" from the exhibition and performative part of the process due to the pandemic was disappointing, yet also an unexpected blessing. I'm grateful for the time spent in my home studio and with my family during the pandemic because it allowed me the opportunity to examine the work I have completed over the past ten years and to think about the individuals that have influenced me along my Soundstitching journey.




This introspective time challenged me to consider experimenting in the process of stitching portraiture for a series of "INFLUENTIALS" that pay homage to people of influence within my creative world and who are part of my personal narrative.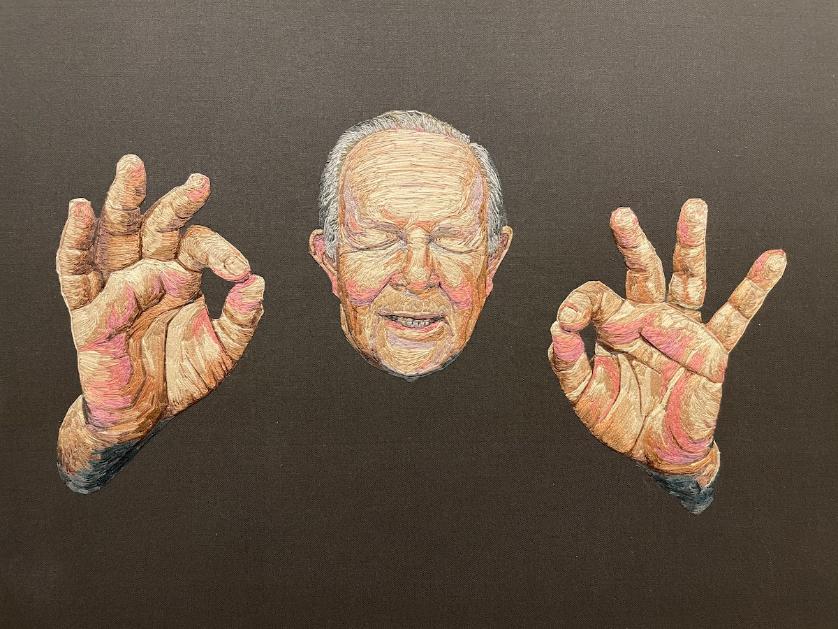 FRANCIS SCHWARTZ SOUNDSTITCHING, 2021
20" X 20"
THREAD AND FABRIC ON CANVAS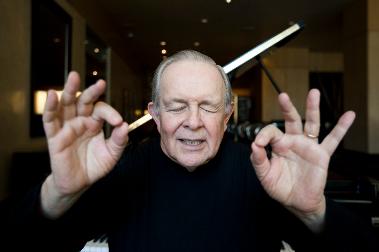 The photograph used for reference was created by Stephanie Brauer, professional photographer and friend.
Please view her work @ Stephanie Brauer
FRANCIS SCHWARTZ | COMPOSER-PERFORMER-EDUCATOR
Francis Schwartz was born in the United States in 1940 and grew up in Texas where he studied with the eminent pianist Patricio Gutierrez. Pursuing advanced studies in piano and composition, he received both Bachelor's and Master's degrees at The Juilliard School where his principal teachers were Lonny Epstein, Louis Persinger and Vittorio Giannini. Subsequently, he was awarded a Ph.D. with highest honors in musical aesthetics from the University of Paris.
Schwartz was the Dean of the Humanities College of the University of Puerto Rico from 1995 to 1999 where he also held major academic and administrative positions during three decades. He established an electronic music studio and an Experimental Arts Workshop at the University of Puerto Rico. During his tenure as Director of Cultural Affairs, he brought many of the world's outstanding artists and intellectuals to the university for performances, lectures, festivals and symposia.
For his contribution to music, education and international understanding, Dr. Schwartz was decorated by the French government and awarded the prestigious accolade Chevalier de l'Ordre des Arts et Lettres. His music is regularly performed around the world; and he is particularly noted for his music-theater works and innovative performance strategies which include an actively participating public..
Schwartz's polyartistic creation "Mon Oeuf", a miniature theater-sculpture with electronic sounds, aromas, tactile stimulation and temperature manipulation--at the Pompidou Center and later the Museum of Modern Art in Paris-- has been hailed as a daring achievement in contemporary art. The composer frequently incorporates the attending public in the artistic experience by having them 'perform' with the professional interpreters.
. Schwartz states: "I wish to give both performer and public the opportunity to explore new ways of enjoying and discovering an artwork. During the past centuries, we have become too rigid, too fearful of the total art experience. I want the players to bathe in the wonders of their corporeal expressiveness, to savor the communicative power of facial gestures as much as they delight in a beautifully produced vocal or instrumental sound. Both artist and public grow in this wonderful discovery."
Francis Schwartz has written works for some of the world's outstanding artists and ensembles such as Andres Segovia, Gary Karr, Roberto Aussel, Isabelle Ganz, Pierre-Yves Artaud, Jay Hunsberger Ulla Suokko, Thomas Bacon, Continuum, The New Juilliard Ensemble, Roberto-Juan González, Arioso Trio, Montage, 2E2M of Paris, LIM de Madrid, Casals Festival, Saint Louis Brass Quintet and Brooklyn Philharmonic among others. In 2004,he premiered his chamber opera "Dalí &Gala" at the Salvador Dalí Museum in St. Petersburg as part of the Dali centennial. Schwartz's "On the State of Children" a powerful work on child abuse was hailed in its Houston, 2006 premiere as a force for societal betterment. In 2007, Schwartz composed "Kinda' Cage-y" for piano and dancer in collaboration with dancer-choreographer Leymis Bolaños-Wilmott'. The video performance of this work forms part of the John Cage Trust.
The unique French Flute Orchestra under the directorship of Pierre-Yves Artaud commissioned Schwartz to compose a new work, "Antigone's Dream" , which received its world premiere in Paris on March 14, 2011 . In June of 2011, Schwartz offered six concerts of his works in the Jorge Luis Borges Cultural Center of Buenos Aires as part of the CLAEM Music Festival sponsored by the President's Office of the Republic of Argentina. The prestigious Sybarite5 Ensemble premiered Schwartz's "Cannibal's Dance" in Carnegie Hall during the 2014 season.
Currently, Schwartz is involved with the filming of his music-theater works which will appear in DVD form. He also lectures occasionally at New College and the University of South Florida. In addition to this activity, the composer has created a series of works for solo instrumentalists entitled "Literary Bagatelles," based on the writings of Shakespeare, Thomas Mann, Paul Celan, Rosario Ferré, Edgar Allan Poe and Cormac McCarthy among others.
Copyright © 2023 Cassia Kite, All Rights Reserved.