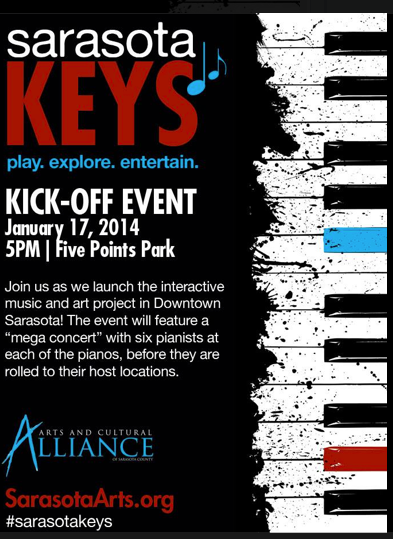 What: Debut of Sarasota Keys public pianos
When: 5 p.m. Friday, Jan. 17
Where: Five Points Park
Who: The "Legacy Artists" who painted six spinet pianos, six pianists and sponsoring business members will join the community for a concert to celebrate this public music/art project, which will run through May. After the concert, the pianos will be delivered to their permanent locations at:
• Sarasota Opera House, 61 N. Pineapple Ave.
• Main Street Traders, 1468 Main St.
• Louies Modern, 1289 N. Palm Ave.
• Mattison's City Grille, 1 N. Lemon Ave.
• Bohemian Bliss Boutique, 1544 Main St.
• DiFilippo Kent Gallery/Showroom, 79 S. Palm Ave.
Event is free and open to the public
/
Thursday, January 16, 2014






"
The streets of Sarasota will be a little more musical starting Friday afternoon, when the public pianos of Sarasota Keys make their colorful debut during a free concert and celebration at Five Points Park.
Six pianists and the seven "Legacy Artists" who customized six spinet pianos with original art will gather with community members, business hosts and funding sponsors at 5 p.m. today, the kickoff of a six-month trial period for the public music/art project, approved by city commissioners in early December...
Similar public pianos have been installed in cities around the world since British artist Luke Jerran originated the idea with his "Play Me, I'm Yours" installation in 2008...
Pianos were delivered to the participating artists — Richard Capes, Jack Dowd, Lori Loveberry George, Gale Fulton Ross, Steven Strenk and Tim Jaeger and Cassia Kite (who collaborated on one piano) — at the end of December. Artists were given the liberty to create their own designs, which range from the abstract (Ross) to portraits of iconic musicians (Dowd).
Pianists who will play at the kickoff include Ridenour, Lee Dougherty Ross, Jesse Martins, Michelle Kasanofsky, Becky Heintz and Peter Madpak." Read more at the Herald Tribune.
Phil Lederer, Phill@srqmediagroup.com
Published on Friday, January 17, 2014
"Rumor tells it began across the ocean in a little town called London. A piano arrived for an upstairs installation, but to the chagrin of the owner there was no way to move the massive instrument inside, much less to the second floor. So there it sat, on the sidewalk unattended. That is, until people began to play. Strangers and passersby stopped to plunk keys and before long it became a local attraction—a playable piano for the public.

The idea reverberated, was replicated and earned the attention of Rich Ridenour, a nationally known concert pianist living in Sarasota, and Ken Shelin, a former city commissioner. The two brought the idea to Jim Shirley, executive director of the Arts and Cultural Alliance of Sarasota County, who embraced the notion and began what would become Sarasota Keys, six pianos installed in an interactive art exhibit throughout Sarasota...."
The Sarasota Keys Piano Project created by the Arts Alliance of Sarasota, Artists Interviews
The Sarasota Herald Tribune recorded a time lapse of Cassia Kite and Tim Jaeger's Collaborative process for the Sarasota Keys Piano Project, by installing a GoPro camera in their studio for three weeks during January, 2014.
"Down Home", piano painted collaboratively by Sarasota artists Cassia Kite and Tim Jaeger