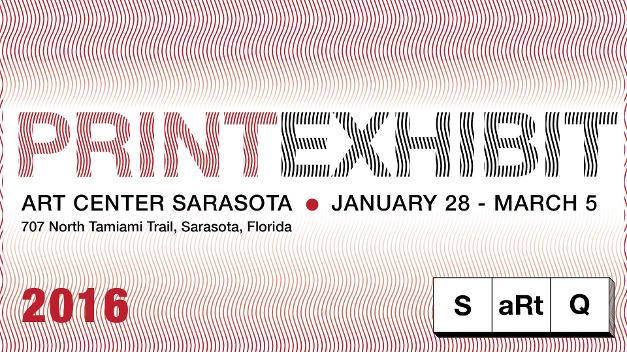 January 28 – March 05, 2016
Opening Reception: Thursday, January 28 • 5-8pm

Featuring small-scale, limited-edition prints by 12 members of the dynamic local artist collective. This is SARTQ's first all-print exhibition and it reflects their dedication to the medium. The 30" x 24" works are created using traditional and non-traditional print-making methods.

"The prints are unified through their common size and framing, directing the focus to the diversity of the SARTQ artists and their different printing styles and methods." – Dustin Juengel, Curator

SARTQ exhibiting members include Elena De La Ville, Larry Forgard, Joni Younkins-Herzog, Tim Jaeger, Cassia Kite, Noelle McCleaf, Jenny Medved, Daniel Miller, Laine Nixon, Javier Rodriguez, Steven Strenk, and Natalya Swanson.

Visit http://sartq.org/ for information.
To learn more about SARTQ, Sarasota's local popular artist collective, please go to the website.
SARTQ 2015 Fall Exhibition Schedule

GREEN Exhibition
November 3 – December 16, 2015
Opening reception: November 7 (2pm-4pm)
Englewood Art Center
350 S McCall Rd, Englewood, FL 34223
In conjunction with the Englewood Art Center's 2015-2016 Exhibition season Fifty Shades of Green, members of the Sarasota Contemporary Art Collective, SARTQ, translate the concept of Green. View SARTQ's multiple interpretations of Green-from environmental to color depictions- in this diverse multimedia small works exhibition located in EAC's Mitchell Gallery.

Key Influence
September 26 - October 31, 2015
SARTQ Open Studios: Saturday, September 26, 2-4 pm
Opening reception: Friday, October 9, 5:30-7:30 pm
Panel Discussion: Wednesday, October 21, 6:30-8 pm
Longboat Key Center for the Arts, 6860 Longboat Dr. S., Longboat Key, FL 34228
Key Influence is a sneak-peak inside the artist's world, from inspiration to completion all created from an unprecedented 2month residency at the Longboat Key Center for the Arts. With glimpses into the studio through video, materials samples and actual vignettes from the artists' workspaces, SARTQ strives to demystify art as well as the techniques used to make it. The finished artworks will be exhibited alongside these process pieces, bringing the experience of the viewer full-circle.
RSVP now to attend a Key Influence event!
Call 941.383.2345 or email lbkca@ringling.edu
Presenting sponsor: Ringling College of Art and Design

Here and Now
August 14 - 28, 2015
Opening reception: Saturday, August 15, 6-9 pm
State of the Arts Gallery
1549 State Street, Sarasota, FL 34236
The first exhibition of the 2015 Fall season presenting the newly re-formed visual art collective. Sixteen member artists displaying a variety of mediums and styles, and curated by Bay area art critic and curator, Danny Olda.
Presenting sponsors: SRQ Media Group, State of the Arts Gallery
Copyright © 2021 Cassia Kite, All Rights Reserved.